Cost of living squeeze dents Christmas high street spending
British Retail Consortium blames inflation for meagre rise in spending on gifts with shoppers spending more on essentials
Share on Facebook
Share on Twitter
Share via Email
View more sharing options
Share on LinkedIn
Share on Pinterest
Share on Google+
Share on WhatsApp
Share on Messenger
Close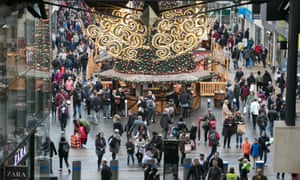 Christmas shoppers out in Bristol. Photograph: Matt Cardy/Getty Images
High street spending in the run-up to Christmas increased at the slowest rate since 2012 after spiralling prices forced shoppers to spend more of their earnings on food and essential items.
Figures from the British Retail Consortium (BRC) sent a worrying signal to non-food retailers, in a week of crucial trading updates for the sector, as they showed that consumers reined in their spending on furniture, clothes and footwear in December.
Q&A What is inflation and why does it matter? Show Hide
Inflation is when prices rise. Deflation is the opposite – price decreases over time – but inflation is far more common.
If inflation is 10%, then a £50 pair of shoes will cost £55 in a year"s time and £60.50 a year after that.
Inflation eats away at the value of wages and savings – if you earn 10% on your savings but inflation is 10%, the real rate of interest on your pot is actually 0%.
A relatively new phenomenon, inflation has become a real worry for governments since the 1960s.
As a rule of thumb, times of high inflation are good for borrowers and bad for investors.
Mortgages are a good example of how borrowing can be advantageous – annual inflation of 10% over seven years halves the real value of a mortgage.
On the other hand, pensioners, who depend on a fixed income, watch the value of their assets erode.
The government"s preferred measure of inflation, and the one the Bank of England takes into account when setting interest rates, is the consumer price index (CPI).
The retail prices index (RPI) is often used in wage negotiations.
Thank you for your feedback.
Spending for the month inched ahead by 0.6% following a 2.6% jump in food sales, mostly to take account of higher prices in the shops, while the sales of non-food items were down by 2.2%.

The BRC blamed the steep fall in purchases of non-food items on a collapse in demand for baby clothes and toys, furniture, footwear, household appliances and stationery.
Early statements from some big names in non-food retail have pointed to a troubled Christmas, while a survey by the insolvency specialist Begbies Traynor has warned that tens of thousands of smaller retailers are in financial distress. Among the large players, Debenhams reported a steep fall in profits last week, sparking a near-20% fall in its share price, as rival House of Fraser admitted it is seeking to cut the size of stores in an effort to slash its rent bill after a tough Christmas. On Monday, Mothercare issued a profit warning as it flagged low consumer confidence.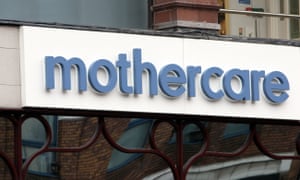 Facebook Twitter Pinterest
Mothercare has issued a profits warning after a dour Christmas performance. Photograph: Paul Faith/PA
Marks & Spencer will lead a flurry of retailers reporting their results on Thursday, leaving investors nervous about the possibility of a broader tumble in sales on the high street.
Helen Dickinson, the BRC's chief executive, said: "With inflation outpacing income growth, shoppers continued to see more of their spending power absorbed by essential items, including food, leaving less left over for buying Christmas gifts.
"That made this year's festive period all the more nail-biting for non-food retailers, many of whom offered deep discounts in the last weeks before Christmas in the hope of something to celebrate at the end of a year, which has seen, on average, zero growth in non-food sales."
She said that over the three months to December, sales on the high street of non-food items declined 4.4% on a like-for-like basis, "the deepest since our records began in December 2012".
Q&A What are like-for-like sales? Show Hide
Like-for-like sales have become the benchmark in the City for judging the current performance of retailers. Typically represented as percentage growth rates, like-for-like sales measure sales at stores that have been open for at least a year, stripping out the impact of sales at newer stores. The idea is that they allow a more transparent comparison of a retailer's sales performance over a certain period of time, when compared with the same period of time a year earlier.
However, there is no formal industry standard. This means that some companies include new extensions to stores in their like-for-like sales, while others include sales generated by a customer paying with a voucher. Critics of the measure say that like-for-like sales do not always give an accurate picture of a retailer's health. They argue that of greater relevance is profitability and how well a company is adapting to challenges such as the living wage and online shopping revolution.
Thank you for your feedback.
Paul Martin, head of retail at the accountancy firm, KPMG, which conducted the survey, described the 0.6% rise in December as "meagre".
"Grocers benefited from festive feasts, but growth elsewhere on the high street was otherwise rather muted for the time of year," he said.
There was also little to cheer retailers in IHS Markit's analysis of December figures from Visa, the payments firm.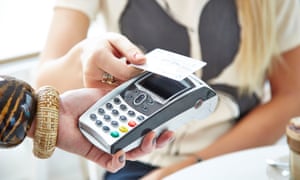 Facebook Twitter Pinterest
Visa said card purchases fell by 1%. Photograph: Barclaycard/PA
On an annual basis, Visa card purchases, which account for a third of all UK consumer spending, declined by 1%.
Visa said: "December's consumer spending figures confirm our earlier prediction that the UK would see its first fall in overall Christmas spending in five years."
The Visa spokesman said that while some large retailers had signalled a strong Christmas performance, "it is clear that the high street has suffered recently, while online spending has held up".
He added: "Hotels and restaurants were again a bright spot in December's results. Consumers have been opting to spend on UK staycations as opposed to physical items and trips abroad. Interestingly, clothing and footwear, and household goods, two categories that might be expected to perform strongly in the lead up to Christmas, saw significant drops of -2.4% and -3.4%, respectively."

• Follow Guardian Business on Twitter at @BusinessDesk, or sign up to the daily Business Today email here.

Topics
Inflation
Retail industry
Economics
Economic growth (GDP)
news
Share on Facebook
Share on Twitter
Share via Email
Share on LinkedIn
Share on Pinterest
Share on Google+
Share on WhatsApp
Share on Messenger
Nguồn: www.theguardian.com