World Bank issues warnings on interest rates and inflation
After better than expected growth in the global economy, Bank says financial markets are vulnerable to unforeseen negative news
Larry Elliott Economics editor
Share on Facebook
Share on Twitter
Share via Email
View more sharing options
Share on LinkedIn
Share on Pinterest
Share on Google+
Share on WhatsApp
Share on Messenger
Close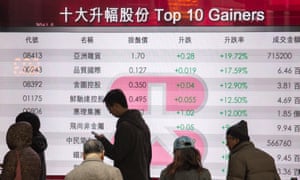 A board displaying the top gainers on the Hang Seng Index in Hong Kong. A global 2018 stock market rally showed signs of losing momentum New York and London stocks stalled, but Asia and eurozone markets managed to power on. Photograph: Vivek Prakash/AFP/Getty Images
Financial markets are complacent about the risks of sharply higher interest rates that could be triggered by better than expected growth in the global economy this year, the World Bank has warned.
The Washington-based organisation said that much of the rich west was running at full capacity as a result of a broad-based upswing in activity, but were now vulnerable to a period of rising inflation that would prompt action from central banks.
Q&A What is inflation and why does it matter? Show Hide
Inflation is when prices rise. Deflation is the opposite – price decreases over time – but inflation is far more common.
If inflation is 10%, then a £50 pair of shoes will cost £55 in a year"s time and £60.50 a year after that.
Inflation eats away at the value of wages and savings – if you earn 10% on your savings but inflation is 10%, the real rate of interest on your pot is actually 0%.
A relatively new phenomenon, inflation has become a real worry for governments since the 1960s.
As a rule of thumb, times of high inflation are good for borrowers and bad for investors.
Mortgages are a good example of how borrowing can be advantageous – annual inflation of 10% over seven years halves the real value of a mortgage.
On the other hand, pensioners, who depend on a fixed income, watch the value of their assets erode.
The government"s preferred measure of inflation, and the one the Bank of England takes into account when setting interest rates, is the consumer price index (CPI).
The retail prices index (RPI) is often used in wage negotiations.
Thank you for your feedback.
Launching the Bank's global economic prospects, the lead author Franziska Ohnsorge said: "There could be faster than expected inflation that would mean faster than expected interest rate hikes."
Ohnsorge added that stock markets were at levels similar to those seen before the Wall Street Crash of 1929, while bond markets were assuming that low inflation would keep official borrowing costs down.
"Financial markets are vulnerable to unforeseen negative news. They appear to be complacent," she said, while announcing that the Bank has revised up its 2018 forecast for the global economy following a better than expected performance in the US, China, the eurozone and Japan in 2017.
Q&A What is the impact of an interest rate rise? Show Hide
Lenders have already bumped up the cost of fixed rate mortgages ahead of the Bank of England's decision to raise base rate from 0.25% to 0.5%, and mortgage borrowers on tracker and variable rates will see their monthly payments become more expensive in the coming days. ​
Savers will gain as banks and building societies improve the rates available on deposit and Isa accounts, although increases are unlikely to come for several weeks.
How much consumers and businesses cut back on spending and investment in the face of higher rates will depend on signals from the Bank about the trend for future increases.
Thank you for your feedback.
In its half-yearly assessment, the Bank said a recovery in manufacturing, investment and trade would mean global growth of 3.1% this year, up from the 2.9% pencilled in last June.
But it warned the acceleration in growth would be temporary unless governments implemented structural reforms to raise long-term growth potential.
"The broad-based recovery in global growth is encouraging, but this is no time for complacency," said Jim Yong Kim, the World Bank's president. "This is a great opportunity to invest in human and physical capital. If policy makers around the world focus on these key investments, they can increase their countries' productivity, boost workforce participation, and move closer to the goals of ending extreme poverty and boosting shared prosperity."
After a prolonged period in which its forecasts have been too optimistic, the Bank raised its 2017 projection for global growth from 2.7% to 3% and revised up estimates for both 2018 and 2019.
The eurozone provided the biggest positive surprise, with its growth rate in 2017 upgraded by 0.7 points to 2.4%. The World Bank said the good news would continue in 2018, raising its forecast for the year by 0.6 points to 2.1%.

There were smaller growth upgrades for the US - from 2.1% to 2.3% in 2017 and from 2.2% in 2018 - and for Japan, where growth estimates were raised by 0.2 points to 1.7% in 2017 and by 0.3 points to 1.3% in 2018.
A record-breaking year - the global economy in 10 charts
Of the leading developing economies, only India performed less strongly than the World Bank anticipated last summer, with growth of 6.7% in 2017 and 7.3% in 2018 representing downgrades of 0.5% and 0.2% respectively.
But China, Russia and Brazil have all been given growth upgrades by the Bank. China's expansion in 2017 is now put at 6.8%, up 0.3% on last June's estimate, with a smaller 0.1 percentage point upward revision to 6.4% this year.
Russia is expected to grow by 1.7% in both 2017 and 2018, an increase of 0.4 and 0.3 points respectively, while Brazil's emergence from recession was stronger than the Bank estimated, with growth upgraded by 0.7 points to 1% in 2107 and by 0.2 points to 2% in 2018.
Although heartened by the near-term growth prospects, the World Bank said its forecasts were still subject to "substantial downside risks". These included financial stress, rising protectionism and geopolitical tension.
It expressed particular concern about the longer-term threats and challenges associated with weak productivity and slowing potential growth. "Focus should now turn to the structural policies needed to boost longer-term productivity and living standards," the report said.
• Follow Guardian Business on Twitter at @BusinessDesk, or sign up to the daily Business Today email here.
Topics
World Bank
Global economy
Eurozone
US economy
International trade
news
Share on Facebook
Share on Twitter
Share via Email
Share on LinkedIn
Share on Pinterest
Share on Google+
Share on WhatsApp
Share on Messenger
Nguồn: www.theguardian.com