M&S drops cauliflower "steak" amid ridicule from customers
Costing double the price of a whole vegetable and shrouded in layers of plastic, 'clean eating' product fails to make the cut
Rebecca Smithers Consumer affairs correspondent
Share on Facebook
Share on Twitter
Share via Email
View more sharing options
Share on LinkedIn
Share on Pinterest
Share on Google+
Share on WhatsApp
Share on Messenger
Close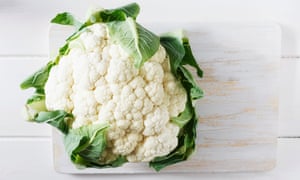 A whole cauliflower costs somewhere between 70p and £1 in most supermarkets. M&S's 'steak' was sold for £2, double that amount. Photograph: Eva Grndemann/Getty Images/Foodcollection
Marks & Spencer has withdrawn its "cauliflower steak" product from sale after it was ridiculed by consumers for its "excessive" plastic packaging and inflated price.
The sliced cauliflower, which comes in plastic packaging with a separate sachet of lemon and herb drizzle, was being sold for twice the price of a whole, single cauliflower at the supermarket chain.

The product had come under fire on social media, with critics describing it as "wasteful" and "ridiculous" and complaining about the volume of packaging used as well as the inflated price. Whole, untrimmed cauliflowers are sold at M&S for £1 – typically for even less at other supermarkets – while the single-slice "steak" version cost shoppers £2.
Confirming its decision to stop selling the item, a spokesperson for M&S said: "Once we've sold the stock that is currently in stores, we won't be ordering any more of this product. We work hard to create quick and convenient meals for customers; however, on this occasion we didn't get it right. We have launched many other vegetarian dishes that are already proving popular with customers."
The product was part of the store's new "Veggie" range, and was first spotted on Twitter by Rachel Clarke @rachclarke27, who triggered a lengthy thread after tweeting:
Marks and Spencer stores are selling sliced cauliflower as 'Cauliflower Steak' with lots of lovely plastic and charging £2 (normally £2.50). A cauliflower costs about 69p from a local veg shop. 😑 pic.twitter.com/v9ocsIAB0R
— Rachel Clarke (@rachclarke27) January 5, 2018