Brexit buyer's remorse? We still don't know what we've been sold
Readers respond to a piece by the Guardian's economics editor Larry Elliott and a letter from Oxford University professor Robert Gildea
Share on Facebook
Share on Twitter
Share via Email
View more sharing options
Share on LinkedIn
Share on Pinterest
Share on Google+
Share on WhatsApp
Share on Messenger
Close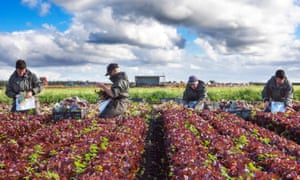 Seasonal migrant farm labourers from the EU picking lettuce in Tarleton, Lancashire. 'Robert Gildea accuses Brexit supporters of claiming fraudulently that immigration has led to lower wages and job losses,' writes Linda Edmondson. 'In significant occupations, notably agriculture, this is a fact.' Photograph: Alamy Stock Photo
Once again Larry Elliott hits the nail on the head with his plea for remainers to move on (Remainers got it wrong: there is no buyer's remorse, 8 January).
Even now there is a complete reluctance to understand the true nature of the EU. Do remainers really believe that the four freedoms to move goods, capital, services and labour were ever introduced in the interests of workers? The continual harping on about the lies of Brexiteers ignores the bigger truth that the EU is, and always will be, unreformable, neoliberal and hugely damaging to our economy. The EU treaties have allowed the capitalist class to cut public spending, privatise, and sell our assets abroad. They threw in a few sops in terms of workers' rights that we could have won ourselves through union action, to persuade us of some nonexistent liberal aspect to the EU.
The liberal left has always been fixated on immigration and racism, threatening us with a rightwing surge of parties like Ukip, which has never materialised. We, as a sovereign nation, will be able to decide on our own immigration policies.
What we need now is to wrench away the initiative from the right and come up with an alternative workers' sovereignty – a new Bill of Rights or written constitution, new economic priorities. Labour and the unions have the basic policies for this already. Jeremy Corbyn understands that we can only move forward on his party's manifesto outside the EU and the single market. A mass debate on the way forward would be hugely positive and reinvigorate the labour movement.
Sarah Ansell
Northampton
xmlns="http://www.w3.org/2000/svg">
Denying that immigration was responsible for low wages and job losses, and describing claims to the contrary as a fraud, is simply delusional
Bert Schouwenburg
• Larry Elliott is in danger of throwing stones in a glasshouse. Remainers are equally entitled to demand: where is the Brexiters' vision for the future? To help cut through this by now sterile debate, the Guardian could facilitate a benchmarking exercise comparing the UK's performance in key economic and social areas with those of the other 27 EU member states.
It would be fascinating to better understand in what way our laws and institutions (governance, press, finance, company law, taxation etc) are the root cause of any underperformance and dissatisfaction. Perhaps then, whether in or out of the EU, we could produce a plan to improve the quality of life and opportunities for future generations. It might even help heal the rifts this wretched referendum has created. It might also show that the source of our current problems lies closer to home than Brussels.
Geoff Greenland
Hungerford, Berkshire
• There are two fundamental flaws in Larry Elliott's argument. With respect to there currently being no "bad economic news" resulting from Brexit, he overlooks the fact that the UK is still a member of the EU – Brexit has not actually happened yet. And secondly, it is not up to remainers to find solutions for low wages, job insecurity, the chronic balance of payments deficit, the north-south divide and reliance on debt-fuelled growth: those responsibilities lie with the government.
Susan Kellerman
Leeds
• Larry Elliott does not – and cannot – demonstrate that Brexit supporters will not regret their decision, because the impact of their decision has not yet been felt. Let's wait a little and see what Mrs May and her hapless crew achieve, and then, when the UK is finally out of the EU, see whether Brexit supporters and maybe even Mr Elliott end up with buyer's remorse. Of course by then it will be too late to return the jumper.
Graeme Salaman
London
xmlns="http://www.w3.org/2000/svg">
The hallowed "freedom of movement" has allowed large-scale farms to employ agricultural workers from the poorest regions of Europe at the lowest possible rate
Linda Edmondson
• If, Larry Elliott, you could have been there to share my joy and wonder at the glorious calm that descended in early summer 1945, when one could suddenly go to bed in the sure knowledge that one would wake in the morning to find one's family still there, the house still standing, the street not filled with rubble; if you could have joined me in the subsequent decade to marvel at the creation of such breathtakingly unlikely ventures as the Council of Europe, the Coal and Steel Community, Cern, and then, later, at the signing of the Treaty of Rome; if you had then looked back at history and realised this was the best promise of long-term peace since our land bridge to the continent had sunk; and if, more recently, you had reflected on the events of the past 70 years: then you would not, I believe, have ended up thinking that macroeconomics provides a whole and sufficient analysis of the world or of our place in it.
John D Walsh
Swindon, Wiltshire
• As a professor of modern history at Oxford University, Robert Gildea clearly has little understanding of basic economics (Letters, 6 January). Denying that immigration was responsible for low wages and job losses, and describing claims to the contrary as a "fraud that must be exposed", is simply delusional. Though there are other factors to take into account, it is self-evident that an increase in the size of the labour pool by people prepared to sell their labour for less will result in fewer vacancies at lower cost. Just ask our members, who have seen their hard-fought terms and conditions undermined by unscrupulous employers importing and exploiting fellow workers from overseas.
Bert Schouwenburg
International officer, GMB
• Robert Gildea writes that the goal of many Brexiters is for Britain to become a "low-wage, low-benefit, low-regulation economy". Where has he been living? We are already a low-wage, low-benefit, low-regulation economy. The loss of industry, privatisation, outsourcing, deregulation, the punitive benefits regime, NHS rationing – none of this has been prevented by our membership of the EU. Equally, the EU has not stopped the proliferation of tax havens around the world, including the City of London.
Gildea accuses Brexit supporters of claiming fraudulently that immigration has led to lower wages and job losses. In significant occupations, notably agriculture, this is a fact. Agricultural labour was always badly paid, but the hallowed "freedom of movement" has allowed large-scale farms to employ workers from the poorest regions of Europe at the lowest possible rate. Not coincidentally, the Agricultural Wages Board, which set terms and conditions and a minimum wage for workers, was abolished in 2013. Farmers now complain that they cannot get British workers to replace the Europeans who will leave after Brexit. No wonder, considering current wages and the extreme shortage of genuinely affordable housing and transport in rural areas.
No one can be sure what the consequences of Brexit will be. But for many people in this country the EU has not brought secure jobs, guaranteed housing, welfare provision and all the other amenities of a civilised society that remainers claim for it. Why be surprised that so many voted to leave the EU?
Linda Edmondson
Rowley, Shropshire
• Join the debate – email [email protected]
• Read more Guardian letters – click here to visit gu.com/letters
Topics
European Union
Foreign policy
Economics
letters
Share on Facebook
Share on Twitter
Share via Email
Share on LinkedIn
Share on Pinterest
Share on Google+
Share on WhatsApp
Share on Messenger
Nguồn: www.theguardian.com