UK government"s Brexit impact assessment "shameful" says Sturgeon
Scottish first minister also says Jeremy Corbyn appears 'only slightly less in favour of a hard Brexit than the Tories'
Share on Facebook
Share on Twitter
Share via Email
View more sharing options
Share on LinkedIn
Share on Pinterest
Share on Google+
Share on WhatsApp
Share on Messenger
Close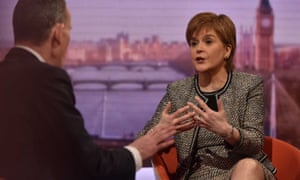 Nicola Sturgeon told the BBC's Andrew Marr the government 'hasn't even bothered' to properly assess the impact of Brexit. Photograph: Jeff Overs/BBC/PA
Nicola Sturgeon has described as "shameful" Westminster's failure to consider the impact of Brexit on the economy, as her own government prepares to publish a "clear-eyed, hard-headed" analysis of potential outcomes of leaving the EU.
Interviewed on the BBC's Andrew Marr Show on Sunday morning, Scotland's first minister said that, although she had seen "some redacted material" from the UK government's Brexit impact assessments, "I think everyone has concluded that what we were told previously by David Davis were in-depth impact studies are no such thing".
"I really do think it is shameful that the UK government, that is the government that is looking to take the UK out of the European Union, hasn't even bothered to properly look at the impact on our economy."
Speaking ahead of the publication of the assessment by Scottish government economists on Monday, she said that the modelling would look at the impact of three different Brexit outcomes on GDP, trade and immigration: staying in the single market and customs union; a free trade agreement; or reverting to WTO terms, and would conclude that the first scenario would be least damaging to the country's economy.
Sturgeon continued to put pressure on the Labour leader, Jeremy Corbyn, to join the SNP in coalition against a hard Brexit. She said: "There's a real window of opportunity. I believe that there is a majority in the House of Commons for remaining within the single market, if Labour gets its act together."
The leader of the SNP at Westminster, Ian Blackford, invited opposition leaders from across the Commons to a new year summit last Tuesday to coordinate cross-party efforts to limit the "catastrophic damage" of a hard Brexit, but Corbyn did not attend.
Sturgeon added: "Jeremy Corbyn has to decide where he stands on this. I think most of his supporters will be deeply disappointed that he appears to be only slightly less in favour of a hard Brexit than the Tories are and many will find that completely inexplicable."
Quick guide What are Brexit options now? Four scenarios Show Hide
Staying in the single market and customs union
The UK could sign up to all the EU's rules and regulations, staying in the single market – which provides, free movement of goods, services and people – and the customs union, in which EU members agree tariffs on external states. Freedom of movement would continue and the UK would keep paying into the Brussels pot. We would continue to have unfettered access to EU trade, but the pledge to "take back control" of laws, borders and money would not have been fulfilled. This is an unlikely outcome and one that may be possible only by reversing the Brexit decision, after a second referendum or election.
The Norway model
Britain could follow Norway, which is in the single market, is subject to freedom of movement rules and pays a fee to Brussels – but is outside the customs union. That combination would tie Britain to EU regulations but allow it to sign trade deals of its own. A "Norway-minus" deal is more likely. That would see the UK leave the single market and customs union and end free movement of people. But Britain would align its rules and regulations with Brussels, hoping this would allow a greater degree of market access. The UK would still be subject to EU rules.
The Canada deal
A comprehensive trade deal like the one handed to Canada would help British traders, as it would lower or eliminate tariffs. But there would be little on offer for the UK services industry. It is a bad outcome for financial services. Such a deal would leave Britain free to diverge from EU rules and regulations but that in turn would lead to border checks and the rise of other "non-tariff barriers" to trade. It would leave Britain free to forge new trade deals with other nations. Many in Brussels see this as a likely outcome, based on Theresa May's direction so far.
No deal
Britain leaves with no trade deal, meaning that all trade is governed by World Trade Organisation rules. Tariffs would be high, queues at the border long and the Irish border issue severe. In the short term, British aircraft might be unable to fly to some European destinations. The UK would quickly need to establish bilateral agreements to deal with the consquences, but the country would be free to take whatever future direction it wishes. It may need to deregulate to attract international business – a very different future and a lot of disruption.
Thank you for your feedback.
Her remarks came as Andrew Adonis described Sturgeon as a "powerful voice" on Brexit, while insisting the "tide is turning" in England against leaving the EU.
Adonis, who resigned as Theresa May's infrastructure tsar at the end of December in protest at the government's handling of Brexit, told Scotland's Sunday Herald: "Her voice is a powerful one and I hope I can work closely with her in forcing Theresa May to let the people of the UK make the final decision on the Brexit deal that's negotiated."
Sturgeon has said previously that calls for a second EU referendum may "become difficult to resist".

The SNP leader earlier this week reiterated that the Scottish government would not recommend that Holyrood approve the EU withdrawal bill in its current state, after the Westminster government failed to bring forward amendments to a highly contentious clause that centralises more than 100 European powers in Whitehall after Brexit, even though they involve policy controlled by the devolved parliaments.

She told Andrew Marr that, while legislative consent is a convention, "it is unthinkable that the House of Commons would ignore the views not just of the Scottish parliament but the Welsh assembly".
Topics
Brexit
Scottish National party (SNP)
Scotland
Article 50
European Union
news
Share on Facebook
Share on Twitter
Share via Email
Share on LinkedIn
Share on Pinterest
Share on Google+
Share on WhatsApp
Share on Messenger
Nguồn: www.theguardian.com